Summer Essentials
Squeeze summer for all it's worth with these beauty essentials!
Ahhh, summer. How we've missed you. It feels like we've waited YEARS for this summer to come around, doesn't it? Well then, let's make it count. We've put together a list of beauty essentials to have you maximize your summer, because let's face it, we gotta squeeze it for all it's worth! From bikini waxing to gorgeous products, Frilly Lilly has your summer glow covered.
1. Bikini Waxing For All!
Number 1 on the Summer Essentials list is an easy one!
Dig up your favourite bathing suit, it's time to let your body breathe again.
What's your summer suit of choice?
High rise?
One piece?
Bathing shorts?
Itsy-bitsy-teenie-weenie-yellow-polka-dot bikini?
Your dad's old t-shirt?
Whatever your beachwear preferences are, we can help you feel care-free and smooth! We offer bikini waxing to suit everyone's hair removal needs, and comfort levels. Check out our bikini menu to see which is right for you!
Still not 100% sure about which to choose? Give us a call!
Want some tips on how to maximize your results? Have some questions about how to prepare for your waxing appointment? Find all the answers in our Waxing Care guide!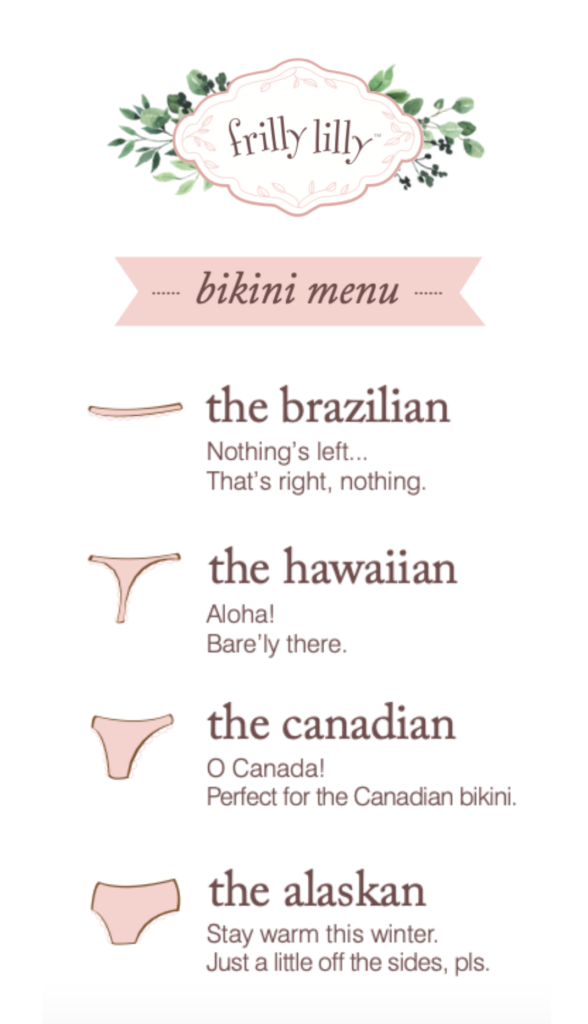 2. Lifted Lashes & Fabulous Brows
Whether you're waking up in a campground, halfway up a mountain, or at a resort, it's essential you don't waste a minute of your vacation—much less at the bathroom mirror! And who says you should have to choose between feeling beautiful and living life to the fullest?
We all know that defining your brows can make such a difference in framing your beautiful face. Before you leave on vacation, try a Brow Wax & Tint to clean up, shape, and define your natural brows for a made-up look, without any upkeep! Results last between 2-5 weeks, so yeah, we'd say it's pretty worth it.
Oh, did we mention we can also give you a lifted mascara-look for up to 4 weeks? Yup, that's right. Our Lash Lift & Tint combo curls your lashes up, and tints them as dark as you want them to be! The best part? THEY STAY THAT WAY.
Going to for a swim? They'll still be tinted.
Fell asleep face first? They'll still be curled.
Ran a marathon? Well dang, you go girlfriend. And yes, your lashes will still be fresh.
It's all in the preparation, bestie! So go ahead and leave that brow pencil, curler, and mascara at home. More room for souvenirs and snacks, right?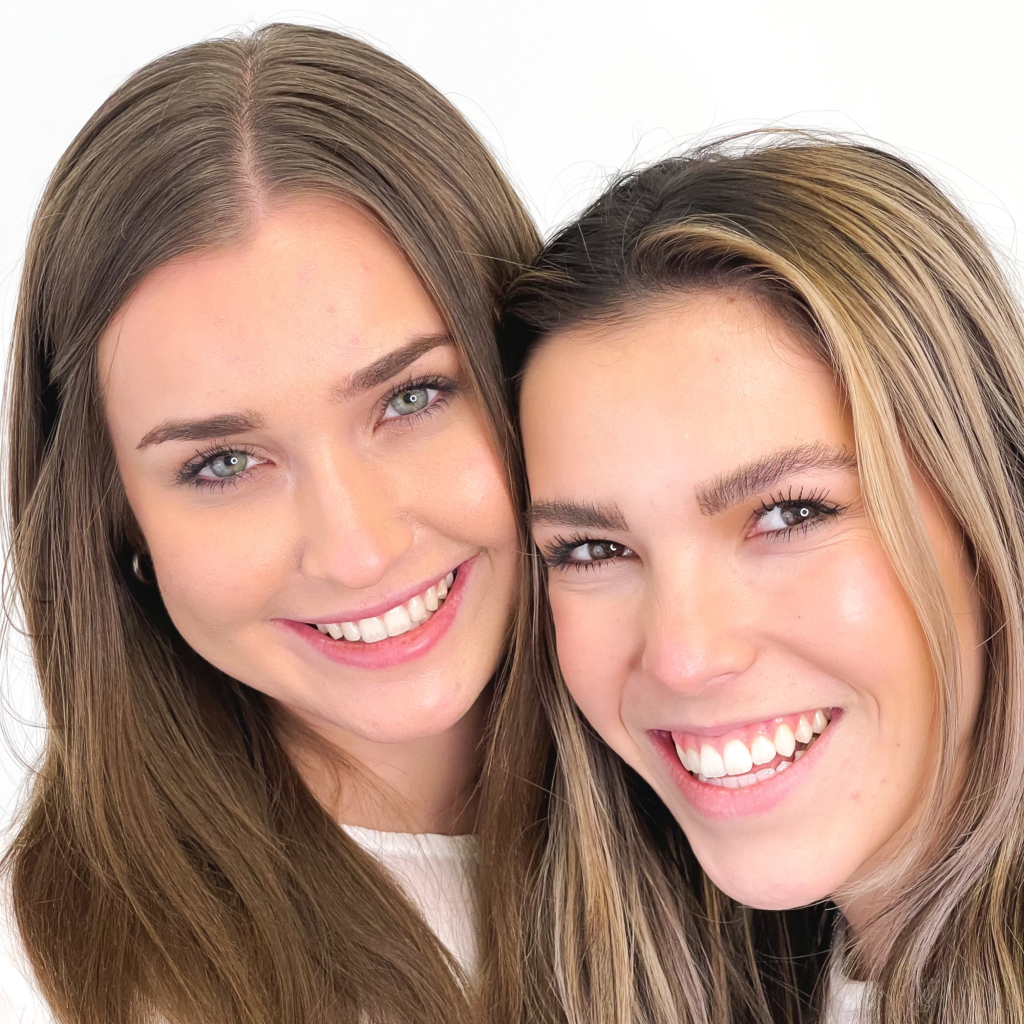 3. Smooth & Dewy Skin, Baby!
It's easy to leave your skincare to the wayside when you're busy having fun. Lucky for you, we selected our most versatile at-home care products to keep your skin clear and smooth all summer long.
Your 1-stop-shop for glowing, smooth skin is easily a sugar scrub. Sugar is a gentle exfoliator, meaning it will clear off dull skin cells without irritating your skin. And, combined with a powerhouse of natural oils, your skin will be 100% nourished. Wham, bam, thank you ma'am!
Tip: Use regularly (2-3 times a week) as a body exfoliation to keep your skin smooth and glowing!
Shop Sugar Scrubs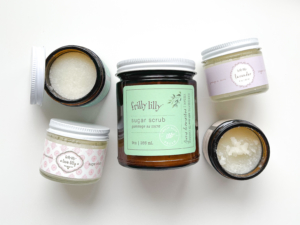 Intensive Therapy Foot Crème
Our feet spend so much of the year trapped in shoes and socks, and they can get pretty roughed up during the summer, too! No worries here: use our Intensive Therapy Foot Crème as an overnight treatment 1-2 times a week for beautiful sandal-worthy toes!
Tip: Want to kickstart your summer on the right foot? Book for a Pampering Pedicure and receive the full treatment!
Shop Foot Care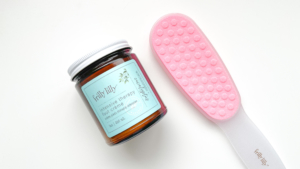 Flora Botanicals All-In-One Toner
This toner. Omg. Whatever you're getting yourself into, this toner should be in your backpack/suitcase/purse/fannypack. It's refreshing, hydrating, balancing, nourishing…Your skin's literal best friend. Use it after cleansing your face to help lock in your serums, or spritz it any time throughout the day to add a little "oomph" to your complexion.

Tip: Packing light? We have the perfect compact, travel-size 2oz bottle just for you.
Shop All-In-One Toner 2oz
Shop All-In-One Toner 4oz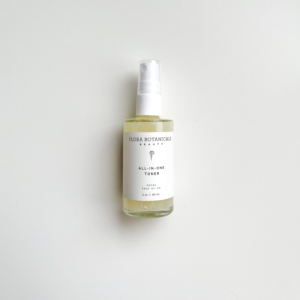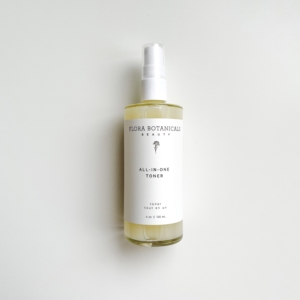 Squeeze it for all it's worth!
Do the early morning hike. Go for the impromptu patio date. Be barefoot for 2 months.
Whatever you do, live your life to the fullest, and feel your absolute BEST with some of our favourite summer beauty essentials!
Frilly Lilly's got your back (and brows).
Prefer to shop in person? Find your nearest Frilly Lilly boutique here!